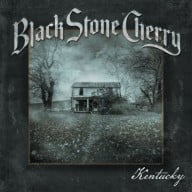 Given that Black Stone Cherry are headlining Ramblin' Man 2016, they couldn't have picked a better track to release in the run-up. Having just finished their UK stint on the Carnival of Madness tour, they're keeping things buzzing in the run-up to the April 1st release of their new album, Kentucky. "The Rambler" was played on the recent arena dates so some (many!) of you may already have heard it.
Lyrics were written with the help of Jasin Todd (ex-Shinedown) and it's one of the songs that Jon Lawhon picked as a particular favourite off the new album in our interview with him recently.
Enjoy the music then check out the making of video, featuring drummer John Fred Young's dad… who plays with The Kentucky Headhunters who'll be joining BSC on stage at Ramblin' Man!
Oh, and if you want lyrics? Scroll down beneath the video…
"The Rambler" lyrics:
You were born in a Southern fall
It might have been Sunday but I can't recall
All the birthdays I must have missed
Your first steps and your first kiss
I don't even know if you know my name
But you should hear the truth before it's too late
So I hope this finds you on some highway
'Cause I'm an old time rambler, I call the road my home
Forgive my indiscretion, it's the only way I know
A million miles from Kentucky, but I will always be around
So turn the radio up, when your heart breaks down
I played for tips and I played for less
I played a pretty Southern girl right out of her dress
She danced until the lights came on
But there's a reason she's here instead of being at home
She said the songs you sang made the whole room cry
And that night I told a young man's lie
When I said I would call her and I said I'd write
I'm sorry for the tears I made you cry
I'm sorry for the promises that turned to lies
If I could turn back the hands of time
I'd take it back and try, try, try
To make you understand
That this is who I am
I met the devil in an old motel
It seems I ain't got much of a soul to sell
My glass is empty, my hands are blue
And the doctor gave me about a month of two
Well I thought I would make it to you this year
So forgive me one last time my dear
And tell you mother I won't be coming home