Gig photos (courtesy of James): Ensiferum / Insomnium / Omnium Gatherum
It's safe to say that I was excited for this gig from when it was announced back in December. Being a fan of Ensiferum and Insomnium, I figured I might as well go and see them. This was before I was a fan of Omnium Gatherum and Ensiferum got announced for Bloodstock Festival.
Prior to the concert occurring, I had a nice wee chat with Markus Hirvonen from Insomnium, said "Hi" to Jukka and Markus from Omnium Gatherum and had a chat with Petri from Ensiferum. Many thanks to Nina and Andy for organizing those interviews.
The first band to hit the stage was Omnium Gatherum. If you remember about 4 weeks ago, I had the joy and privilege of interviewing Jukka (Vocals) and Markus (Guitars) and watching the band play a headline set in Glasgow. It's safe to say I became a fan of them after that gig and was thus looking forward to seeing them again. They did not disappoint at all. Playing a set primarily compromised of songs from their two most recent and critically acclaimed albums, Beyond and New World Shadows, they delivered a superb set. I particularly enjoyed that they decided to play "Living In Me" tonight instead of the one that was supposed to be on the set. Nice touch guys.
Onto the next band, Insomnium. Having missed them last time they came to the UK, I was looking forward to seeing them. This was a special night on the tour, as Ville Friman played with band on this date only. Playing a set primarily composed of songs from their latest album, Shadows of the Dying Sun, the band delivered a killer performance. At points, Niilo (Bass and Harsh Vocals) made a few jokes about merch and whether the crowd wanted more songs. Finishing their set with the song "Weighed Down With Sorrow", they left the crowd suitably warmed up for the headliners.
Next the headliners, Ensiferum. Having spoken with Petri earlier, he mentioned that the band was going to play a 100 minute set. Now that's quite a long set, particularly if you've got a bad throat as he sadly did. This did not affect the bands performance at all as they powered through the set, playing both new and old songs alike.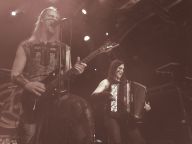 It's probably worth mentioning that Netta Skog was stepping in for Emmi at this point. This resulted in a rather funny Finnish humppa and a cover of "Breaking the Law" with Petri on bass, Janne (Drums) on guitar, Sami (Bass and Vocals) on accordion, Markus (Guitar and Vocals) on drums, and Netta on vocals. At points during the cover, I noticed that Janne gave a look to Markus as a sort of "Stop showing me up". This was due to Markus showing off a bit, performing a few carpet rolls here and there.
Despite me being super tired from travelling on the sleeper two nights in a row, this was a killer show, with first class performances from all the bands. I look forward to seeing Ensiferum at Bloodstock and the new album from Omnium Gahterum which should be out either late this year or early next.
Ensiferum: [ensiferum]
Insomnium: [insomnium]
Omnium Gatherum: [omniumgatherum]