[avatar user="Gary" size="50″ align="left" /]Local metalheads Nest of Vipers open up proceedings tonight and having seen this band several times now, they just keep getting better. I thought they truly stepped up a gear tonight. They say good things come in small packages and nothing is more true than front woman Hannah Jones, who has an amazing voice that just screams out metal with fellow Viper Edward Van Bart on bass pounding away looking like he should be in Motley Crue.
Highlight for me was "Let Me Live". Catch them live soon – they won't be supporting for long!!
Another Hannah front woman on the same bill – what are the odds! This one fronting Newcastle band Fallen Mafia who are on tour supporting Sister. I had not come across this band before but was impressed with their brand of sleaze rock, with guitarist Chris rocking out along with fellow cohort Lee on bass backed up by Matty on drums.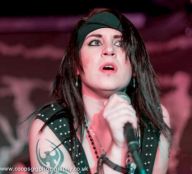 A short but rock-packed setlist with highlight for me being "Just Like Me". Finishing up with "Dirty", summing up the band's style of dirty sleaze rock which has seen them on some high profile support slots. If you like your Motley Crue-style metal, then give this band a chance and you will not be disappointed.
Tonight's headliners have been touring constantly for a few years now, including a support slot last year on the Skid Row tour which included a date last October at the Liquid Rooms in Edinburgh. Roll on a few months and the band are on their first headline tour of the UK.
The band hit the stage with singer Jamie resplendent in a masquerade mask and start off with "My Enemy" from current album Disguised Vultures with some crunching base lines from Bassist Rikki. The current album sounds more alive on stage with the band cranking out the title track "Disguised Vultures" which takes on a life of it's own. Sister play a great setlist pulled from their 1st EP Deadboys Making Noise, 1st album Hated and current album Disguised Vultures.
They are on fire tonight and the noisy crowd are really up for it. The track "Bullshit & Backstabbing" explodes live and gets a great response from the crowd with its chorus, a stand out track of the night along with "Sick" (check out the video on youtube, embedded below). The band have a sound that make them stand out from other likeminded outfits like Wednesday 13, Murderdolls & Scream Baby Scream. Alice Cooper comes to mind with tracks like "Naked" which comes alive on stage.
They play a favourite of mine tonight which shows the softer side to the band, the atmospheric "Would You Love A Creature" with Tim on acoustic guitar and Jamie leaning into the crowd with his voice dripping emotion. A truly epic track in all senses of the word!
From the excellent Deadboys Making Noise EP comes the Guns 'n' Roses/Faster Pussycat riff laden monster that is "Crash, Boom Bang" with Tim all over his guitar throwing out Slash style riffs & Rikki slamming out bass riffs that hit you in the face – a track that would not be out of place on the Sunset Strip! The band launch into a full-on cover of Iggy's "Search & Destroy" which does just that to the sweating panting crowd by this point, ending the set with a stunning version of "Please Kill Me".
All too soon it's over. Catch them soon as they won't be in the smaller venues for much longer.
Sister setlist:
My Enemy
Disguised Vultures
Bullshit & Backstabbing
Hated
Sick
Spit On Me
Would You Love A Creature
The Unlucky Minority
Slay Yourself
Too Bad For You
Naked
Crash Boom Bang
Search & Destroy
Please Kill Me
Sister: facebook | twitter | youtube | myspace