Nasty is not your average metal band. Since their formation in the year 2005 these dudes kept themselves busy by making music and getting a critical reception among their fans for every single one of them. Nasty has a different stylistic approach. Being generalised as a hardcore band, Nasty play 90s metalcore sound influenced by death metal and beatdown. Their debut album reflects their authenticity of being a death metal influenced band as it showcases blast beats, guttural vocals and death metal-esque tremelo picked guitar riffs. With all the genre explanation aside, Nasty is all set to release their 6th album entitled Realigion in September. Being a fan myself, I have been eagerly waiting for this album. Nasty, Realigion, 2017, here we go…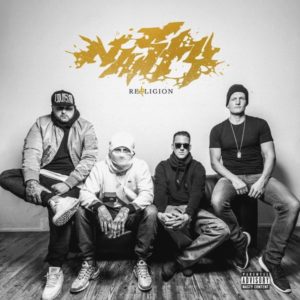 Ok, Nasty start the album off with a typical hardcore lyrical theme relating to the band's hatred towards the world with the song's title being named "F.Y.W" which is an acronym for "Fuck.Your.World"! The song hits hard for almost a minute and a half with the instrumentation ranging from djenty guitar riffs fired up with nasty breakdowns/beatdowns. A perfect track to begin a hate-filled aggressive record. The track that follows "F.Y.W" is "Rock Bottom"; the first single released officially by these Belgian hard-hitters. The song itself pulverizes the listener with thunderous drumming followed by a heavy breakdown at the end. There is a reason why the band is often counted among the important metal bands at the moment. Nasty outshines the majority of bands with their music as well as their involvement with other bands. Recently, Nasty helped their friends Lionheart to regroup after a hiatus. This is one among many reasons why I like and respect Nasty.
Jumping onto the album, after a one-two opening punch on the album, Nasty showcase the best of their sound with the title track, "Realigion". Undoubtedly my favourite track, this two and half minute track features JJ Peters of Deez Nuts as a guest vocalist. With charismatic "Bro" chants and relentless chugga chugga breakdowns, the song is an epitome for a catastrophe. As the setlist elapses songs get more aggressive and brutal.
Shorter tracks subside and gives a minute for an interlude to chill things out. After a couple of more songs we get another song that is close to being the best track; "In Defeat" is a throwback to the heavier side of Nasty with a verstile vocal arrangement. All of a sudden the album ceases with a slow outro track which lasts for more than two minutes, which makes the album go down for good.
In the end it seems as if Nasty worked hard to satisfy their cult. I'm sure that this album is well worthy for moshing. If it wasn't for the generic chuggy guitar passages I would have put this record as my top album for 2017. However, Realigion does have a position on the top 2017 list as their music is good enough to get my ears engaged. Plus Nasty have been doing this for ages, so I'm not that disappointed with their integration of chuggy riffs. After all they are bordering on beatdown because of their aesthetic nature. Definitely worth every penny and more, I will make sure to blast this record loud until the band announces their next album. If you are a fan of relentless breakdowns and adrenaline pumped songs, this album is for you. I doubt that you'll get bored whilst blasting this record.
Nasty: official | facebook | twitter | instagram | bigcartel