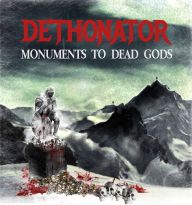 Word of mouth advertising does work – Dethonator are an example. A friend of mine happened to post on facebook that he liked their new EP, so I checked out their page, found it was a free download, nabbed it and… here we are with a review of Monuments to Dead Gods.
Moulded in the form of traditional heavy metal with an edge of the melodic, Dethonator are London-based and have been going since 2002. I've no idea if they've released anything else, but Monuments to Dead Gods is a cracking collection of four tracks and they damn well should work on more. [update – found a load of older material on their YouTube channel!]
"Beast Moon" – the second track – is probably  my favourite with a speedy, simple main riff overlaid with melodic widdling, fast finger-tapped breaks and a rousing crescendo towards the end.
Having said that, it's the best of a good bunch. The title track has a rather epic, progressive battle metal feel to it; opener "Hunter's Night" kick-starts the record in rousing fashion; "Kings of Annwn" leaves you wanting more and rounds the collection off nicely with a more sedate finish.
There's certainly no arguing the price of absolutely nothing so you should really do your ears a favour and grab a copy before they realise that they should be charging for something this good.
official | facebook | twitter | youtube | reverbnation | myspace