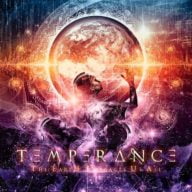 Fresh from blowing Rock In Roma away alongside Apocalyptica, Epica, and Nightwish, Italy's melodic metal masters Temperance have revealed details of their upcoming album.
Set for release on 16th September via Scarlet Records, The Earth Embraces Us All will be the third full-length from these rising stars of European heavy metal. Boasting eleven new tracks and artwork by Gustavo Sazez (whose other clients include Arch Enemy and Morbid Angel), the new opus promises to build on the infectiously euphoric sound established on the first two Temperance discs.
In an official announcement, frontwoman Chiara Tricarico stated
This is without any doubt the most complex and mature album we've ever done. It basically gave us the chance to add many new elements to our music. Most of the songs in our previous albums were short and straight to the point, these new ones are longer and stylistically challenging, it takes time to fully grasp their essence. 'The Earth Embraces Us All' is the natural evolution of our musical path, we are very proud of it, I think it represents us well!
A new track from the upcoming album, "Unspoken Words", received its first live airing at Rock In Roma yesterday. Our scribe Ryan was there to witness it, and caught a shaky-as-fuck video which you can check out below.
Tracklist:
1 A Thousand Places
2 At The Edge Of Space
3 Unspoken Words
4 Empty Lines
5 Maschere
6 Haze
7 Fragments Of Life
8 Revolution
9 Advice From A Caterpillar
10 Change The Rhyme
11 The Restless Ride