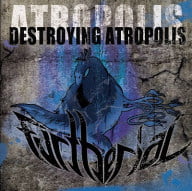 I've done a half-Turkish band on these pages before, but this is the first full-blooded band from Turkey to have earned the Band of Day title. Furtherial was founded in 2007 by Baser Çelebi, under the name of Extinction in Istanbul.
Oh, Istanbul is the only city in the world to span two continents – Europe and Asia.
After having recorded a self-produced demo in 2008, the band was forged into the Turkish metal scene. The name "Furtherial" was thought up by Baser, inspired by the word "further". That word expresses the "after life" and the "other side". So Furtherial has a meaning like "something that belongs to the further, coming from the other side."
The band recorded their first album Destroying Atropolis in autumn 2013 and the release date is now finally set for May the 13th 2014 via The Orchard.
Their musical style is "melodic death thrash" which means three great genres for the price of one. There's an album sampler below, and further updates will be up here as the release date approaches.
official | facebook | twitter | youtube