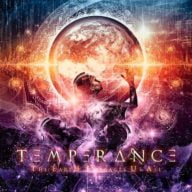 Italy's melodic metal maestros Temperance return with their stunning third LP, The Earth Embraces Us All.
Temperance have been making waves across Europe in the last few years. Their headline tours, as well as support slots for the likes of Nightwish, Within Temptation, and Luca Turilli's Rhapsody, have brought their unique sound to a rapidly growing fanbase across the continent and beyond. Their music is big and bold: characterised by sweeping melodies and a seemingly limitless supply of earworm hooks.
Match this with the formidable talents of every band member and their euphoric live shows, and Temperance already had a surefire recipe for success. And yet, in the build up to this album frontwoman Chiara Tricarico was hinting at a stylistic shift, stating that The Earth Embraces Us All would be "the most complex and mature album we've ever done".
From the first notes of opener 'A Thousand Places', the band have totally delivered on this promise. A thunderous gallop underlying melancholic strings, which opens up into a vast, cinematic soundscape, characterised by powerhouse vocal performances from Chiara and vocalist/ guitarist Marco Pastorino. It's impossible for this to not sound like an overstatement, but seriously: only Nightwish and Epica are making this style of heavy music on the same scale and with the same heart-on-sleeve ambition.
While Temperance aren't afraid to make their influences known (the operatic intro to 'At The Edge Of Space' is reminiscent of Once-era Nightwish, and the male choirs on 'The Restless Ride' evoke Sonata Arctica), their sound is in no way derivative, and they take it wherever they see fit. This means that this new record features some of the heaviest music the band have ever written (the crushing, groovy 'Haze', led by Luca Negro's bass, is pure moshpit fuel: imagine if Testament tried their hand at Italian melodic metal). But it also features some melodic textures which are grin-inducingly mad to hear in a metal record (the sax-led jazz interlude in 'Advice From A Caterpillar' being case in point: and it's an amazing showcase of the diverse talents of sticksman Giulio Capone).
Yet all of this experimenting is ultimately in service of one thing which Temperance have already proven themselves to be masters of: writing massive anthems which are gripping, emotive, and, most of all, fun. The Earth Embraces Us All is chock full of these tracks. From the folky 'Unspoken Words' (which, if its debut at Rock in Roma is anything to go by, will be an evergreen set-staple for years to come), through their first Italian-language number, 'Maschere', to the huge, rousing single 'Revolution', it's great to hear Temperance building on the kind of big, euphoric songs which made their first two albums and their previous live sets so brilliant.
The Earth Embraces Us All is nothing less than a triumph. The work of an ambitious and talented band dedicated to pushing the boundaries of heavy music in terms of both the range of influences which it can embrace and the scale of the soundscapes which it can create. But, critically, they haven't forgotten their songwriting strengths which have brought them to this point. The end result is an album which is guaranteed to give you goosebumps and a great big smile on your face. Tremendous.
The Earth Embraces Us All is out on Friday 16/09/2016, via Scarlet Records and is available to preorder now:
[amazon text=digital download&asin=B01INY4AAU]
[amazon text=CD&asin=B01IR7VWK4]
Temperance: official | facebook | twitter | bigcartel