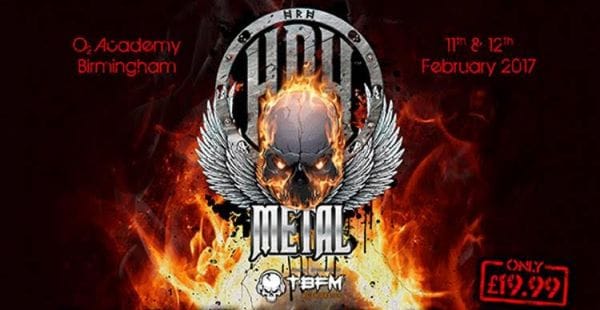 Skindred are set to headline the inaugural HRH Metal next February, alongside Sodom, Raging Speedhorn, Evile, Lawnmower Deth, Hell, Winterfylleth and over 30 other metal bands from around Europe.
HRH CEO Jonni Davis speaks highly of the band:
Skindred are no strangers to HRH: we are honoured for them to bring their high energy show to Brum on a Saturday night, which will be nothing but a full-on metal meltdown!
HRH Metal is already over 80% sold and will take place @ O2 Academy Birmingham on 11th / 12th February 2017. Day passes are now released, and can be booked, with the last 183 weekend passes available from www.hrhmetal.com or by ringing Bex on 0207 193 9564.
There are plenty of other homegrown acts amongst the full lineup which reads as follows:
Skindred
Sodom
Raging Speedhorn
Evile
Lawnmower Deth
Hell
Winterfylleth
Feed the Rhino
Senser
Savage Messiah
RSJ
Cypher 16
Fury
Stoneghost
Def Con One
Primitai
Pythia
Bloodyard
Internal Conflict
Vicious Nature
Jonestown
Anti Clone
Red Rum
Reign of Fury
Bearfist
The Heretic Order
Animator
Derange
Ballsdeep
XV11
Obzidian
Eradikator
Hanging Doll
Gehitika
Donkerkarnuffel
Burden of the Noose
Left for Red